GATESTONES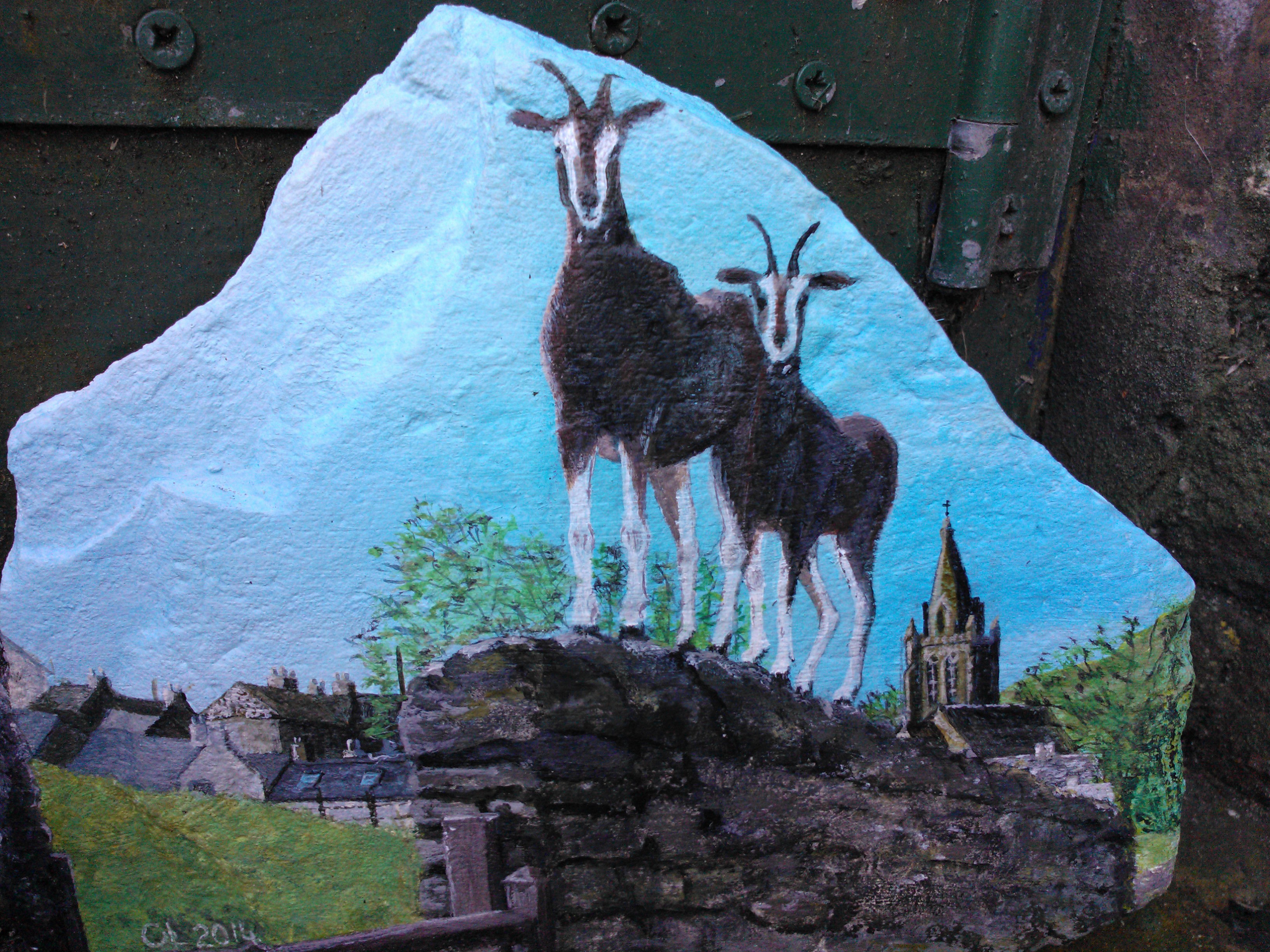 BACKGROUND. After about 10 years experimenting with various techniques to develop a durable finish for stones and enable them to endure harsh northern weather while stood or hung outdoors; Christine began painting stones for sale in 2012. Originally, stones were intended to be used as property names thus, 'Gatestones'. Over the years however, many customers have bought or commissioned these distinctive artworks for a range of other purposes from hearth ornaments through to grave tributes. Commissions can be taken for paintings of specific locations or themes but a range of stones with artwork inspired by the landscape and environment of the North Pennines are sold from the studio in Alston and can be viewed by appointment. email: artist@lowforce.co.uk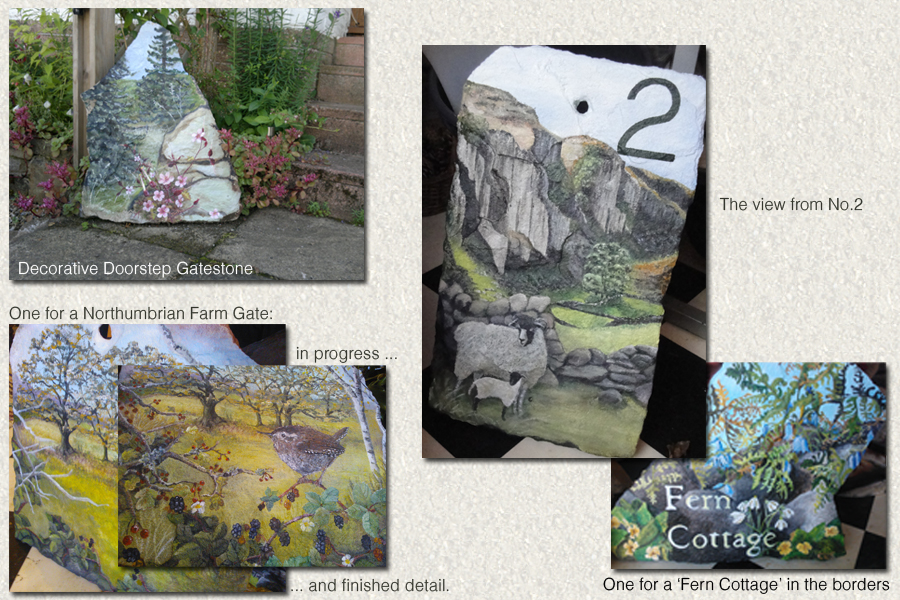 THE STONE. Local sandstone found around the artist's property is the most common base for the paintings. The shapes and contours of each individual rock are uniquely exploited in terms of composition and perspective so that each piece is distinct from another even if it depicts the same subject. Some works are done on reclaimed sandstone roof tiles when they are available – these tend to be larger pieces with a flatter surface and special characteristics like peg holes, cleat marks and dressed edges. Curiously shaped stones from Flinty Fell quarry have also been used to create painted ornamental features for garden-landscaping designs.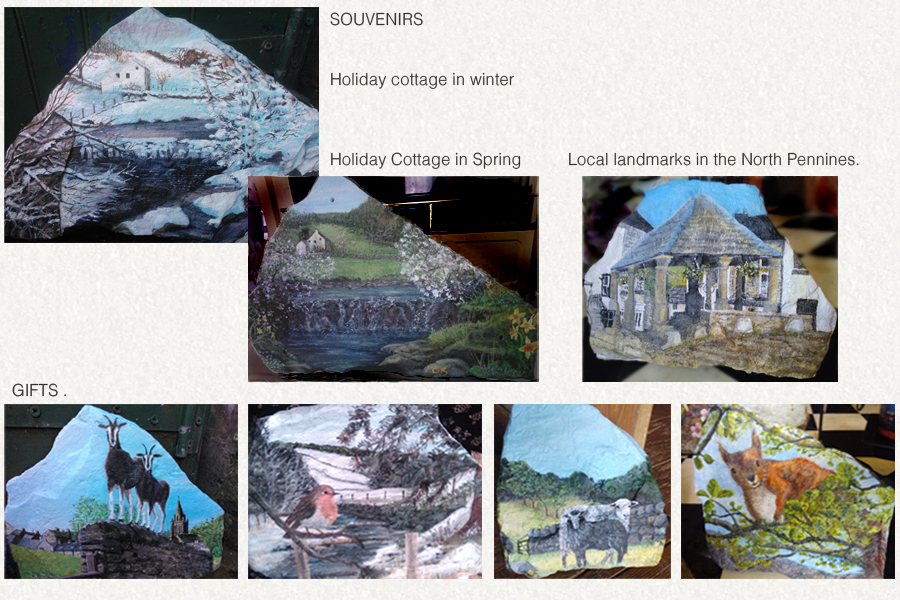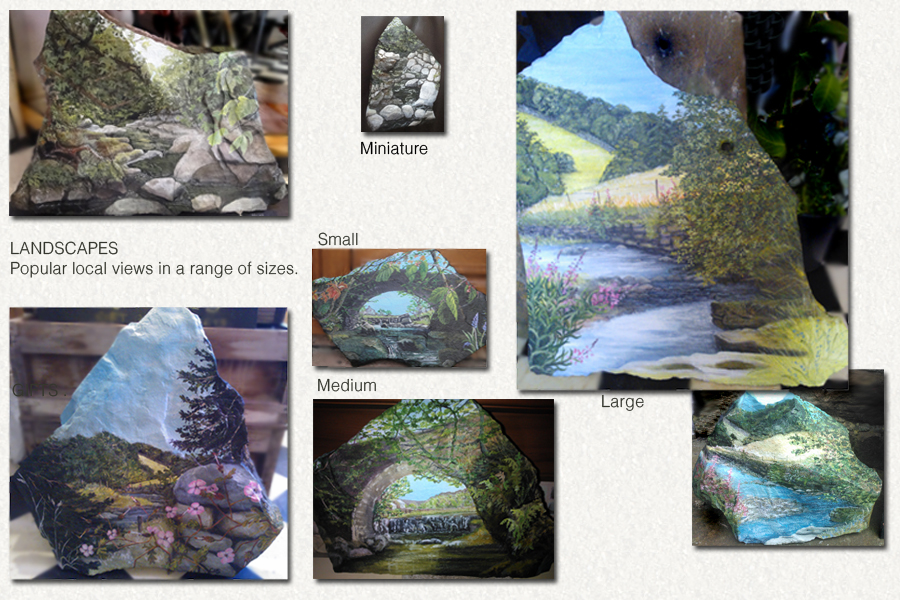 PRICING. Each stone and its painting is different and pricing individual stones reflects this. As a guide however, on basic stones, approximate sizing according to surface area applies as follows.
| | | | |
| --- | --- | --- | --- |
| MINIATURES | SMALL | MEDIUM | LARGE |
| c.150cm2 | >150cm2 up to c.300cm2 | >300cm2 up to c.900cm2 | >900cm2 up to c.2700cm2 |
| £27.50 | £30 – £45 | £50 – £80 | £85 – £240 |
Speciality stones (3D designs, quarry stones and rare size roof tile artworks) are individually priced.
DELIVERY AND COLLECTION. Stones can be delivered free of charge in the area mapped below. You can collect your stone, but, If you live further away or, have perhaps ordered artwork as a visitor or while walking or cycling in the area, stones up to 25kg can be sent by courier to most locations in the UK and a delivery charge of (£5 to £12 weight depending) will be added to your order.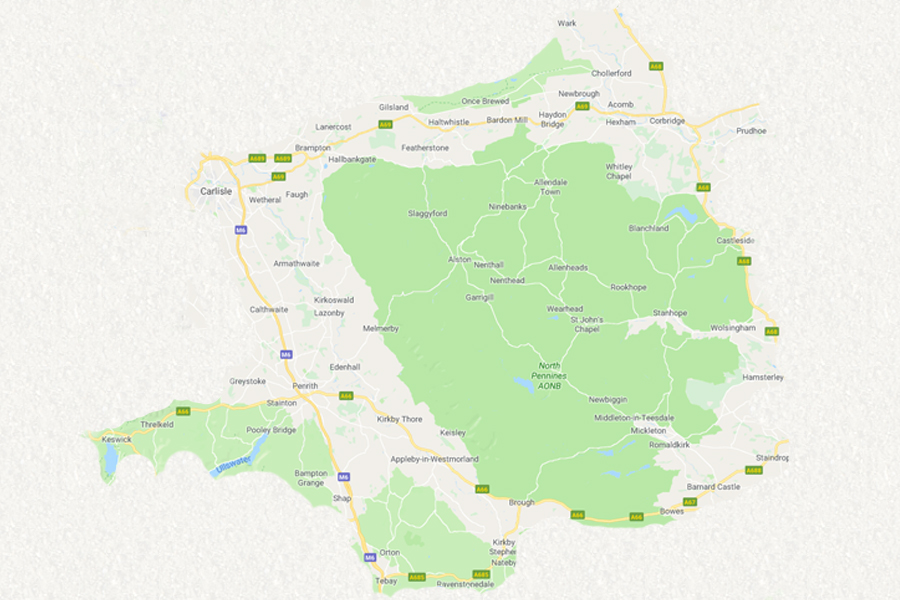 GALLERY. Painting 3D stones. The 'Hidden Houses' project.